10th Annual Breastfeeding Forum will be held on March 30, 2022 - Live webinar only!

This one-day conference will focus on techniques to assist women with breastfeeding, and update care providers on breastfeeding techniques and tips to ensure a successful breastfeeding experience.
Speakers:
Julie Ware, MD, MPH, IBCLC, FAAP, FABM, Associate Professor of Pediatrics, Cincinnati Children's, Hospital Center for Breastfeeding Medicine, Ohio AAP Co-Chapter Breastfeeding Coordinator
Don Kautz, RN, PhD, Retired, Associate Professor Emeritus, UNCG School of Nursing
Greensboro, NC
Jaleema N. Speaks, MD, Novant Health WomanCare, Winston-Salem, NC
Objectives
Upon completion of this program, participants will be able to:
Identify various levels of support for breastfeeding families.
Discuss new breastfeeding updates from the American Academy of Pediatrics and the Academy
of Breastfeeding Medicine.
Recognize the effects of selected contraceptive methods on breastfeeding.
Explore hope and humor strategies for breastfeeding education
This program targets lactation consultants, WIC staff members, registered dietitians, health educators, peer counselors, nurses, social workers, childbirth educators and others who assist women with breastfeeding.


Cost and Registration
$85 Registration fee, $75 Group of three or more, registering together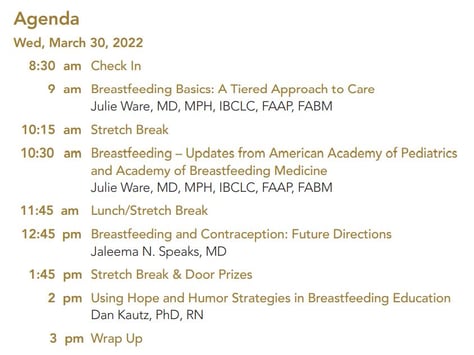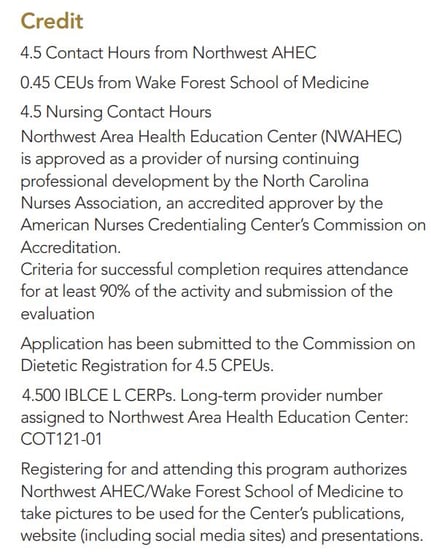 Jointly Provided by:
Northwest Area Health Education Center (AHEC), a program of Wake Forest School of Medicine and part of the NC AHEC System and Novant Health Forsyth Medical Center.
This program is financially supported by education funds to NC WIC Perinatal Region II by NC Division of Public Health, Nutrition Services Branch.