Recent Posts
COVID-19 Vaccine Distribution Plan Update
Read More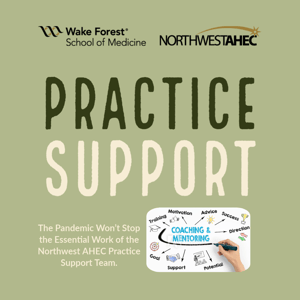 Despite the challenges facing regional primary care practices during this time of COVID 19, many are actively pursuing Patient Center Medical Home recognition. The Northwest AHEC Practice Support Coaches stand ready to help using a distance tool kit provided by Wake Forest University Health sciences to provide coaching on quality improvement, advances in healthcare using electronic health record technology and PCMH recognition. Practice managers have stayed engaged in projects with the NWAHEC Practice Support team, and maintained productivity as their deadlines approach.

Distance learning and communication technology has enabled Practice support coaches to work diligently with managers and providers who strive to maintain quality and ensure the patient needs are meet. Tools such as virtual meetings and shared assignments have helped practice staff continue to satisfy PCMH recognition deliverables and deadlines. Coaches help practice staff work on quality reporting, patient satisfaction measurement and review, preparation and submission of quality metrics.

Virtual meetings conducted by NWAHEC Practice Support Coaches are customized to meet the needs of the practice and patients. Monthly meetings last one to two hours and focus on standard work procedures in targeted areas such as patient satisfaction surveys. The goal of the project is to align scheduling, communication, screening, referral and treatment options with individual patient needs. Many of the targeted patient characteristics and corresponding practice procedures have changed drastically during the Coronavirus Pandemic. One obvious example is seen in empty practice waiting rooms which have shifted to patients waiting in the parking lot for their turn to enter the practice.

Virtual coaching visits provided by the Northwest AHEC Practice Support team have been a reassuring contact for practice mangers as they redesign their practice during these very difficult times. As reflected in the quotes below, practices rely Northwest AHEC Practice Support for up to date, unbiased answers and technical support as they lead their practices to greater quality and patient centeredness.
Read More