We are pleased to inform you that pediatric and family medicine practices engaged in the Keeping Kids Well Project may be eligible for a grant supporting efforts to improve rates of childhood vaccinations in our state.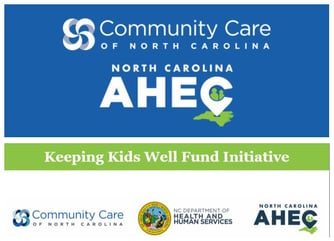 As you know, rates of childhood vaccinations have fallen sharply during the pandemic, leaving children and the adults around them vulnerable to preventable diseases. To help address the problem, the North Carolina Division of Public Health, in partnership with NC Area Health Education Centers and Community Care of North Carolina, is providing grants to practices engaged in the KKW project to support interventions aimed at boosting compliance with scheduled immunizations and well-child care.
Grants of up to $5,000 maximum per organization will be awarded for any new interventions executed after December 1st. In addition, practice support coaches from NC AHEC and CCNC will be available to assist you in this effort. To apply for the DPH Keeping Kids Well Fund Initiative submit your online application today. Practices will be notified of approval within 1-2 weeks after submitting an application.
Funds are limited and will be distributed to accepted applicants on a first come, first serve basis, so everyone is encouraged to apply as soon as possible.
Once accepted practices should then submit data reflecting the aggregate number of children served regardless of payor status, and W-9 documentation within two weeks of the completed intervention and no later than May 31st, 2021. All required documentation should be sent to practicesupport@ncahec.net in order to receive payment.  
Learn more about Keeping Kids Well - Click Here