Deadline is 2/10, so apply quickly!
Great Opportunity for Community Health Workers Partnering with or Working on Healthcare Teams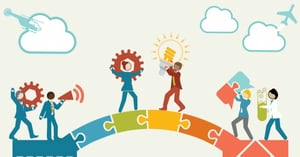 The Health Equity through Action and Leadership (HEAL) Collaborative is a yearlong program focusing on supporting implementation of Community Health Workers in the role of bridging community, healthcare and another "sector" system (examples: school, criminal justice, public health, social service). 1 team from each Medicaid region will be selected to receive training and coaching focusing on increasing effectiveness of collaboration and impact on community health and wellbeing.
We are looking to support work that organizations are already involved in and may want to use this opportunity to bring an additional "sector" partner to the table OR strengthen work where 3 organizations are already at the table. Jessica Rodriguez is leading this work and can be a great resource to answer questions and even support you in applying. This is a great learning opportunity for all involved, especially the CHWs.
The trainers for the quarterly learning sessions will be Abdul Hafeedh bin Abdullah of CHASM [nam12.safelinks.protection.outlook.com], Teresa Campos-Dominguez of Multnomah Public Health [nam12.safelinks.protection.outlook.com] in Oregon, and Erika Bernabei at Equity and Results [nam12.safelinks.protection.outlook.com].
Apply online at: https://app.smartsheet.com/b/form/9dfc6536fa6e4cb5a6feabc1ca8bbc3a [app.smartsheet.com]
Deadline to apply is Friday 2/10/23.
For more information view this recorded information session [nam12.safelinks.protection.outlook.com] and see the attached flyer.