The Northwest AHEC Practice Support Team is committed to promote understanding and improve the orientation of Social Determinants of Health (SDOH) for North Carolinians. In order to support these goals, we will share a publication on SDOH each month on our Practice Support Blog.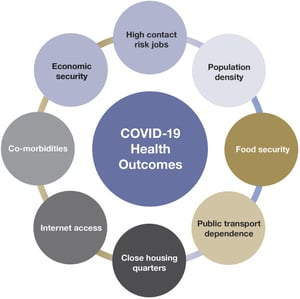 The global COVID-19 pandemic has strained health care providers and patients alike. Marginalized and low-income communities have been disproportionately impacted. US primary care practices are rising to the challenges by making a concerted effort to meet their patient's unmet social needs.
The August article selected for our Social Determinants of Health series delves into specific ways primary care practices can improve their services for this targeted population.
Social determinants of health have been addressed in a variety of ways by several different organizations working collaboratively and by an influx of funding and resources. The work is greatly needed, however; the equity, the quality, and the sustainability of the work should also be evaluated because it's important to maximize the benefits of the work that's being done.
In an effort to assist clinics around the country, this month's article details the experiences of the authors, primarily physicians located in North Carolina, who show how the partnerships they've created and the work they've done could be a model to other agencies and their leaders who are working to provide tailored care to patients individual needs.
Addressing the Social Determinants of Health During the COVID-19 Pandemic: Ensuring Equity, Quality, and Sustainability. Sandhu, Sahil BS; Lemmon, Monica E.MD; Eisenson, Howard MD; Crowder, Carolyn MSW; Bettger, Janet prvu ScD. (2021). Family & Community Health.44(2), 78-80. Doi:10.1097/FCH.0000000000000290