Pediatric Practices who have not already signed up for the COVID-19 Vaccine Management System (CVMS) should have received an email from the North Carolina Department of Health and Human Services (NC DHHS) with important updates on the COVID-19 vaccine program. See below for more details.
Good Afternoon:
As a pediatric practice in North Carolina, we would like to encourage you to be a fully functioning partner in our efforts to vaccinate North Carolinians against COVID-19. To do so, please enroll as a COVID-19 Vaccination Provider in North Carolina's COVID-19 Vaccine Management System (CVMS). We want to ensure everyone who is currently eligible for and wants a vaccine has access to one. Let's keep working together to get our vaccination rates as high as possible and bring summer back to North Carolina [covid19.ncdhhs.gov].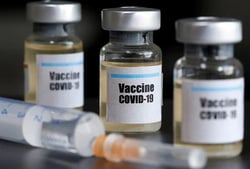 We are reaching out today in particular to pediatric practices, because the Pfizer COVID-19 vaccine is currently authorized and recommended for individuals 16 years or older. Additionally, Pfizer has submitted promising safety and efficacy data for adolescents age 12 and up. We anticipate the FDA may extend the Emergency Use Authorization to this younger age group very soon. We encourage all practices caring for adolescents to complete the CVMS enrollment and activation process, so they will be ready to provide vaccinations to adolescents in addition to other individuals. 
We are working to make being a vaccine provider even easier, especially for smaller practices. NCDHHS is working to match smaller practices to combine efforts to receive smaller quantities of Pfizer COVID-19 vaccine rather than a full Pfizer vaccine tray. Once your provider location is fully enrolled and activated in CVMS, we will be reaching out to help matchmake your location with other providers to distribute vaccine in smaller quantities than the minimum shipment amount (currently 1170 doses). 
Updated Allocation Guidance and Requirements 
We truly appreciate all your efforts and sacrifices to vaccinate North Carolinians during this challenging year. This video featuring NCDHHS Secretary Mandy Cohen [youtube.com] is a special thank you and explanation of the next phase of our COVID-19 recovery and allocations request process.  
North Carolina has shifted to a new allocation process where providers request the number of first doses of vaccine they would like for the coming week, with an opportunity each week to request more doses. There is no longer the 7-day requirement to use up all the first doses, and a provider can request doses on an as-needed basis. To be considered for additional requested doses, a provider should have administered at least 50% of the allocated vaccine.  
Providers are encouraged to accommodate walk-in vaccination requests and to offer vaccines as part of regular patient visits to provide the greatest flexibility and access to people wanting the vaccine. Because of how COVID-19 vaccines are packaged and their storage and use requirements, using every dose in a vial before it expires can be challenging in some settings. In these circumstances, getting vaccine to people who want the vaccine easily should be prioritized over ensuring that every dose is used in an open vial.  
Enrolling in CVMS 
The process to become enrolled and activated can take up to two weeks depending on the completeness of the application, so now is a great time to get started. Please see the CVMS Enrollment and Activation Process Roadmap [covid19.ncdhhs.gov] for a condensed one-pager of all steps your provider location needs to take. A high-level overview of the steps your provider location will need to take to enroll are below. If you have already been approved as a COVID-19 vaccination provider but have not completed setting up all your users for access to CVMS, please finish steps 3-5 below. 
To support you in your enrollment and onboarding, we are offering upcoming live trainings to walk through the steps of enrollment and answer any questions you may have. During the training sessions, we will offer the opportunity to walk-through completing Section A of your enrollment application live during the call. If they have not already done so, please have your designated organization administrator begin the registration for your organization in the CVMS Provider Enrollment Portal [covid-enroll.ncdhhs.gov] in preparation for attending the session. 
| | | | | |
| --- | --- | --- | --- | --- |
| Training  | Date  | Time  | MS Teams Link  | Call-in Details  |
| Provider Enrollment Training – NC Pediatric Providers  | 5/4/21  | 6:00-7:30 pm EST  | | Phone Conference ID: 740 484 300#   |
| Provider Enrollment Training – NC Pediatric Providers  | 5/6/21  | 12:00-1:30 pm EST  | | Phone Conference ID: 740 484 300#  |
Additionally, we ask all providers to review the COVID-19 Vaccine Readiness Checklist [covid19.ncdhhs.gov] to ensure they are ready to receive and administer COVID-19 vaccine.  
If there is another practice partner in your community that is not yet enrolled in CVMS and should be prioritized, please reach out to your Immunization Branch Regional Nurse Consultant [immunize.nc.gov].  
Once your practice is enrolled and activated in CVMS, your location will be able to request vaccine doses for the coming week. These emails are sent every Tuesday from vaccineinfo@dhhs.nc.gov with a request form to be filled out by Wednesday at 12PM ET. Again, there is no longer a requirement to use all doses within 7 days and providers can order more on an as-needed basis.   
As a pediatric practice, we understand that you have a desire to vaccinate adolescents but may not have the storage capacity or demand to administer all 1,170 doses in a Pfizer vaccine tray (current minimum shipment amount). To accommodate this, NCDHHS will be working with you and other pediatric and family practices to combine efforts to administer one tray once you have completed the enrollment and activation process in CVMS. 
Thank you for your continued support, 
NC Department of Health and Human Services