The Consolidated Appropriations Act of 2021 established several new requirements for providers, facilities, and providers of air ambulance services to protect consumers from surprise medical bills. These requirements are collectively referred to as "No Surprises" rules and apply to all providers.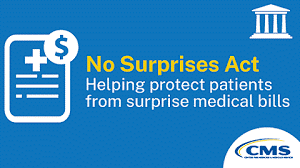 The requirements are generally divided into Balance Billing Requirements (applies to services provided at a facility) and Good Faith Estimate requirements (applies to all places of service - including physician offices).
These requirements don't apply to people with coverage through programs like Medicare, Medicaid, Indian Health Services, Veterans Affairs Health Care, or TRICARE. These programs have other protections against high medical bills.
This legislation took effect on January 1, 2022.
The links below give you all the necessary information, links, forms and templates in order to take the necessary actions to be compliant.
Consider spending a lunch hour viewing this No Surprises Act Webinar presented recently by the North Carolina Medical society, and contacting your practice support coach if you have any questions!