New technologies are fundamentally changing the way people interact with health care. Successful implementation of digital health technology will be imperative for improving patient outcomes and ensuring financial stability for health care practices.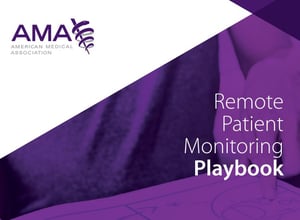 Click Here to Download the Playbook
Remote Patient Monitoring Implementation Playbook
A digital health solution that captures and records patient physiologic data outside of a traditional health care environment.
With this data, the care team can monitor chronic conditions outside of the traditional health care environment and intervene in disease management as necessary.
Remote patient monitoring (RPM) is particularly helpful in managing these conditions because it provides visibility into patients' lives outside of their scheduled appointments, which has historically been a barrier to timely and effective diagnosis and management. With data collected over time, care team members can manage and treat chronic conditions in a way that is timely, meaningful, and realistic to the patient's lifestyle. The data generated through RPM can help facilitate conversations between patients and physicians around the impact of disease and response to treatment and provide opportunities to intervene more quickly when health conditions worsen.
In addition to providing care teams with better, more actionable information earlier, RPM has been praised for engaging patients in their own care by providing them access to their own data so they can better understand the impact of their treatment and advocate for their medical needs.