In recognition of National Rural Health Day, the Centers for Medicare & Medicaid Services Office of Minority Health (CMS OMH) is hosting a COVID-19 Vaccine Webinar for Rural Communities.
Date: Monday, November 15
Time: 1-2 p.m. ET
Title: COVID-19 Vaccine Webinar for Rural Communities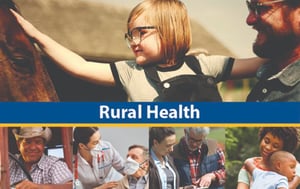 Intended for community partners and providers working in rural areas, this webinar will offer attendees the opportunity to learn more about federal COVID-19 resources, toolkits, and information. Attendees also will receive information on healthcare workforce mandates, healthcare coverage related to the COVID-19 vaccine, and more. Speakers will include representatives from CMS OMH, the U.S Food and Drug Administration, the Centers for Disease Control and Prevention, and two community partners.
CMS recognizes that more than 57 million Americans live in rural areas, and face several unique challenges. And those challenges can differ dramatically among the different kinds of rural areas across the country. Rural residents tend to be older and in poorer health than their urban counterparts, and rural communities often face challenges with access to care, financial viability, and the important link between health care and economic development. Paid for by the US Department of Health and Human Services.
National Rural Health Day - November 18th
The National Organization of State Offices of Rural Health sets aside the third Thursday of every November, which this year is November 18th, to celebrate National Rural Health Day.
Click here to learn more
National Rural Health Day (NRHD) is an opportunity to "Celebrate the Power of Rural" by honoring the selfless, community-minded spirit that prevails in rural America. NRHD showcases the efforts of rural healthcare providers, State Offices of Rural Health and other rural stakeholders to address the unique healthcare challenges that rural citizens face today and into the future.