Welcome to the Best Practices in Opioids Prescribing and Management Webinars

We invite you to learn more about the lectures available for viewing and select what interests you, choose any or all 10. These pre-recorded lectures are all online via your computer or mobile device at your own pace.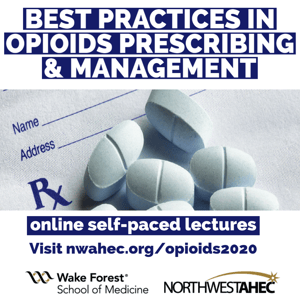 Prescribers will find modules that address content required by their individual boards for opioid-focused continuing education and other modules that highlight vulnerable and special populations like adolescents, geriatrics, those in hospice, pregnant women and those affected by homelessness. This activity is targeted to those interested in best practices for opioid prescribing and management and opioid use disorder, including physicians, advanced practitioners, nurses, behavioral health and addiction medicine specialists, and social service professionals.

AHEC has provided support to produce these modules and offer them at a reduced registration fee of just $10 per session ($100 for all 10 sessions).

Here is a list of all sessions available:
Opioids and Opioid Use Disorders: Where Are We Now
Balancing an Epidemic of Opioid Misuse and Abuse with the Ethical Duty to Treat Pain
Opioid Use Disorder: Signs and Symptoms, Levels of Care, Referral
Sources and Assessment Tools
Vulnerable Populations and Opioid Prescribing and Management - Hospice
Opioids and Opioid Use Disorder in Youth (under 21)
Non-Pharmacologic Integrative Medicine Approaches for Managing Pain
Substance Use Disorder Treatment in the Age of Social Distancing
Substance Use Disorder: Treating Homelessness and Special Populations
Pearls of Wisdom and Lines in the Sand: Scope and Management of
Opioid Use During Pregnancy
Vulnerable Populations and Opioid Prescribing and Management: Geriatrics

View credit information and more details on our website!