Medicaid Managed Care open enrollment will begin March 15, 2021 continuing through May 14, 2021.
NCDHHS has started mailing enrollment packets statewide and launched new resources for beneficiaries as it prepares for NC Medicaid Managed Care Open Enrollment.
Have questions?
Beneficiaries can now call the NC Medicaid Enrollment Call Center at 1-833-870-5500 (TTY: 1-833-870-5588), visit ncmedicaidplans.gov or the Get Answers pages to learn more about NC Medicaid Managed Care.
Get the free mobile app
To get the app, search for NC Medicaid Managed Care on Google Play or the App Store.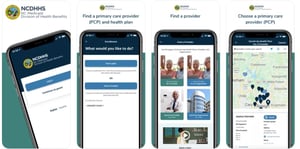 Use the app to find and view primary care providers (PCPs) and health plans for you and your family. Learn more about the free mobile app at Get answers. 
These new tools, as well as the NC Medicaid enrollment website [ncmedicaidplans.gov], will assist beneficiaries in choosing a primary care provider (PCP) and a health plan for their families' care.
Health Plan Choice Guide
Patients can use the Health Plan Choice Guide to view health plans. It will help them choose the best health plan to meet their health care needs.
To view health plans, go to View health plans.