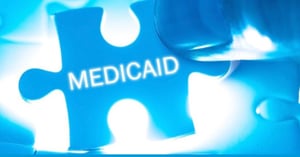 What is a Tailored Plan?
A Tailored Plan is a North Carolina Medicaid and NC Health Choice health plan. It offers physical health, pharmacy, care management and behavioral health services. It is for members who may have significant mental health needs, severe substance use disorders, intellectual/developmental disabilities (I/DDs) or traumatic brain injuries (TBIs). Tailored Plans offer added services for members who qualify.
https://ncmedicaidplans.gov/learn/get-answers/tailored-plan-services
This week the Northwest AHEC Practice Support team offers some reminders and highlights from the July 21, 2022 Back Porch Chat. If you were not able to attend, we encourage you to review the slides and recording here.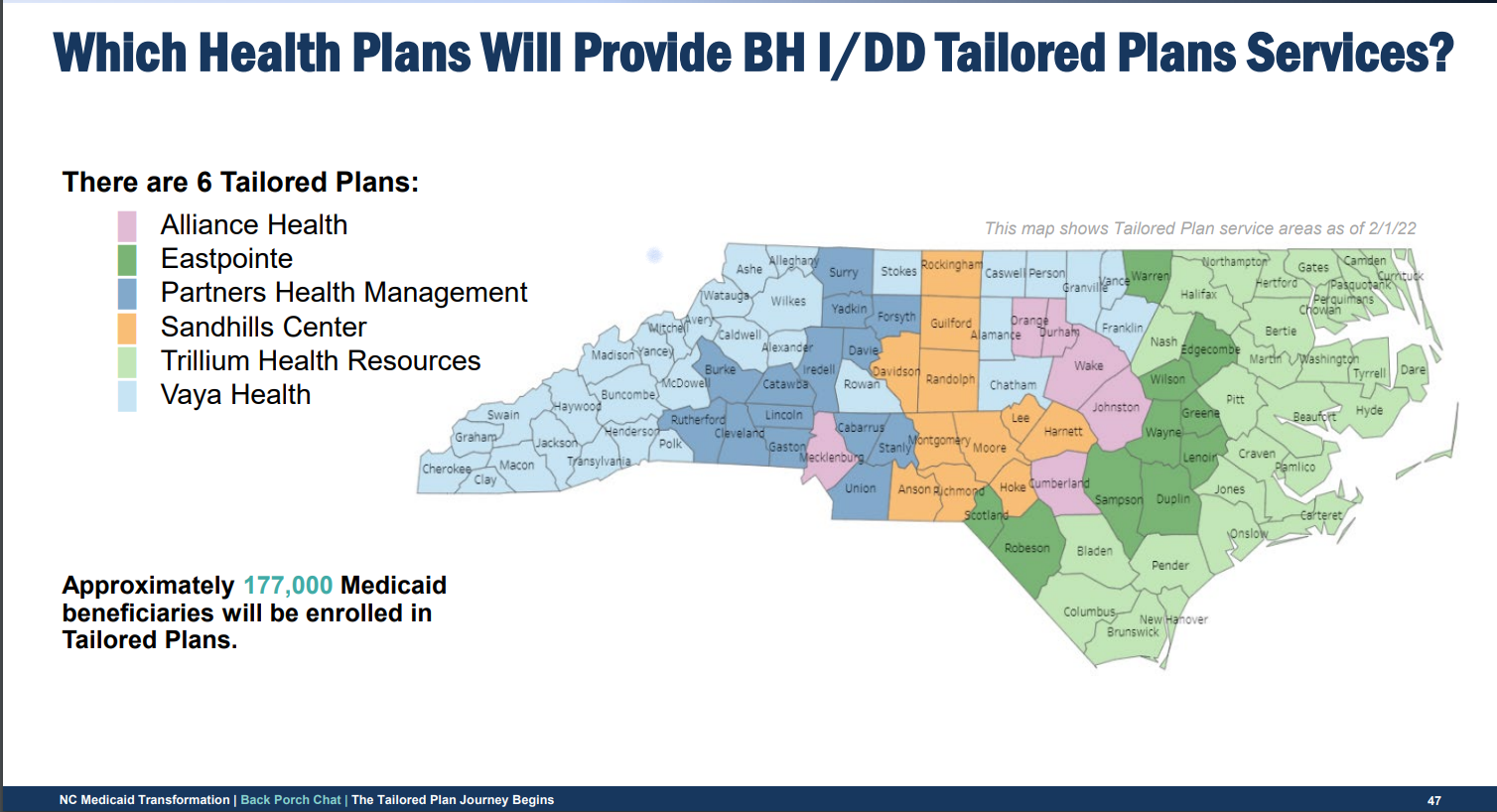 Approximately 177,000 Medicaid beneficiaries will be enrolled in Tailored Plans. There are 6 Tailored Plans in North Carolina as shown in the graphic above.
Tailored Plans have partnered with Standard Plans.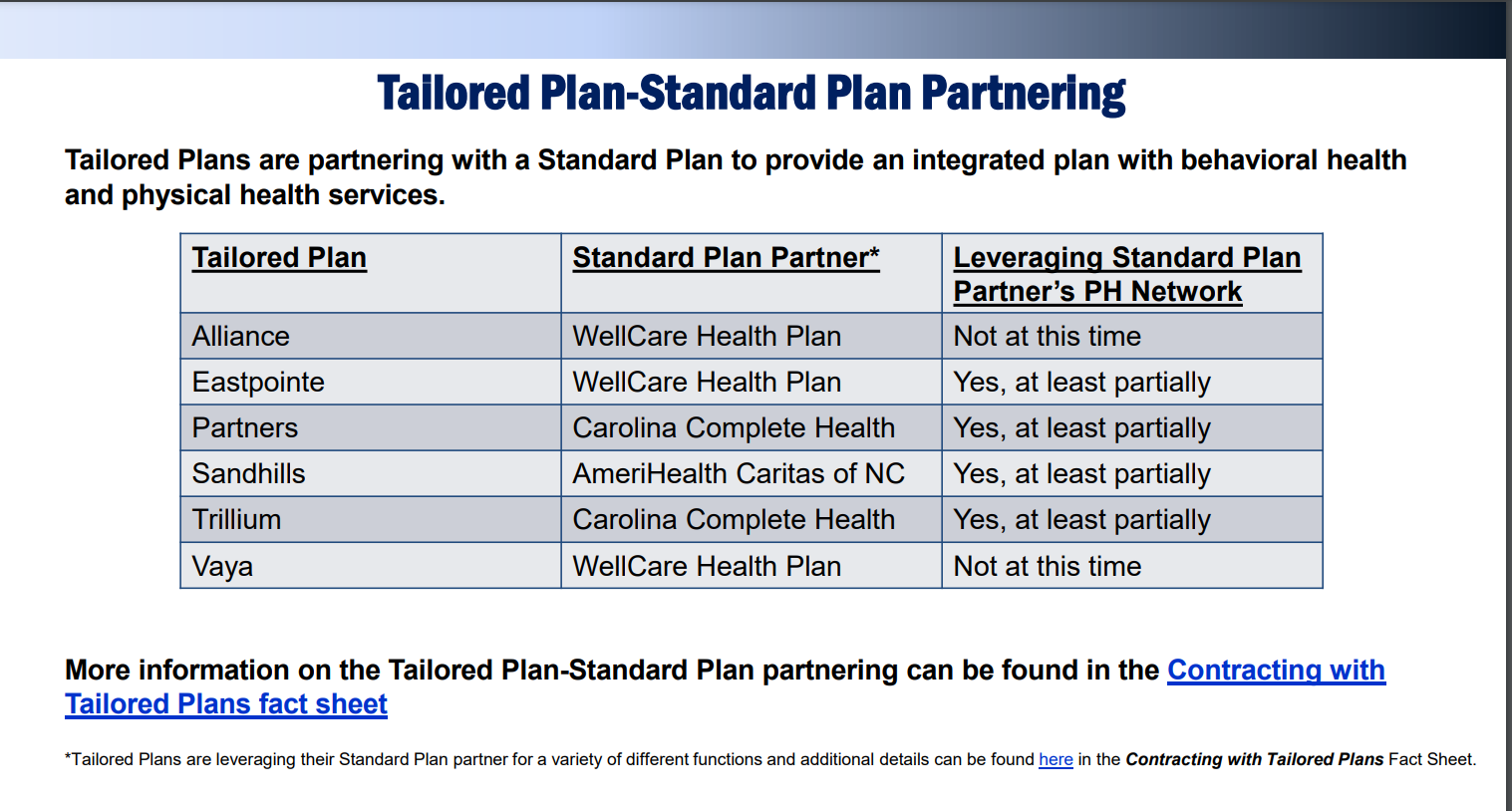 During the Back Porch Chat, several questions arose during the Q&A Session. Here is but a sample:
Q: As a provider, is there something extra we need to do to 'contract with the Tailored Plan'? Or, if we are enrolled with NCTracks, does this automatically contract us with the Tailored Plans?
from QA Support (DHHS): Being enrolled in NCTracks does not mean you are contracted with a Tailored Plan or all of the Tailored Plans. You will need to contact the Tailored Plan or Tailored Plans in which you would like to contract with to discuss contracting. For BH they have a closed network and for physical health they have an open network.
Here is a link to learn more about contracting with Tailored Plans:
Contracting with Tailored Plans Fact Sheet
Check the map above to review characteristics of your location and catchment area with regard to Tailored Plan services and how the following may apply to you: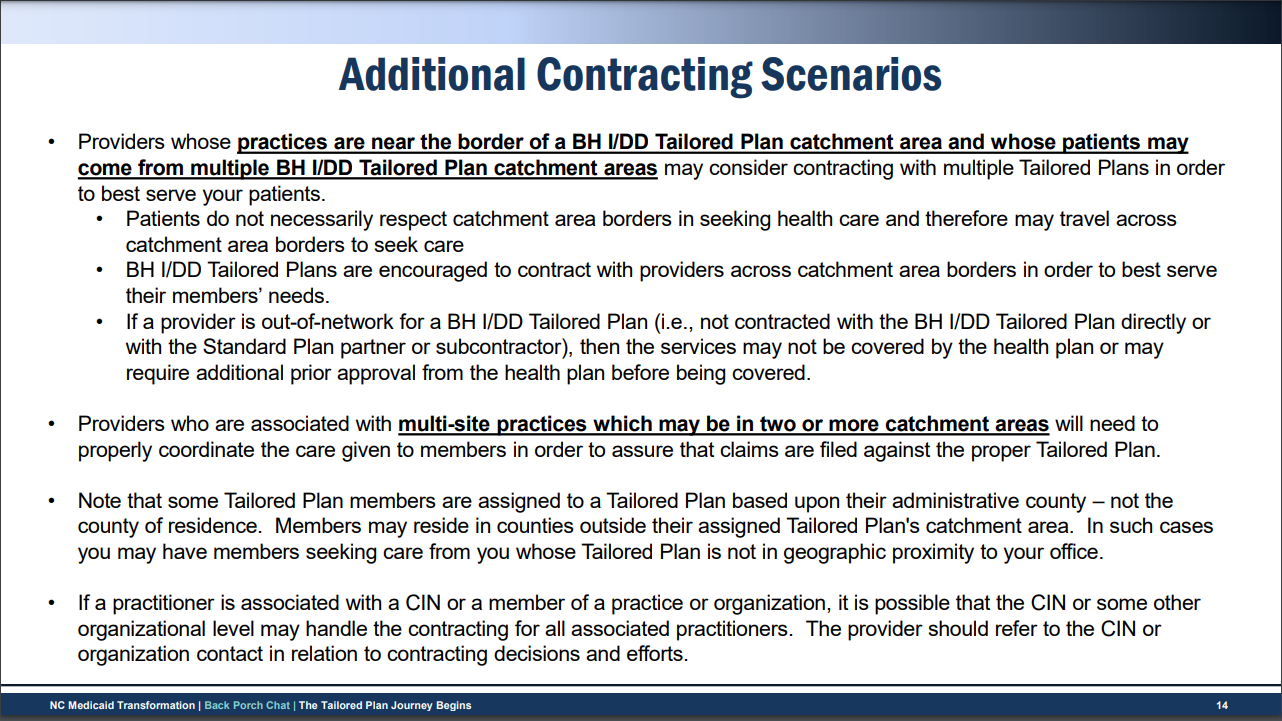 Some notes about contracting deadlines and Auto Assignment: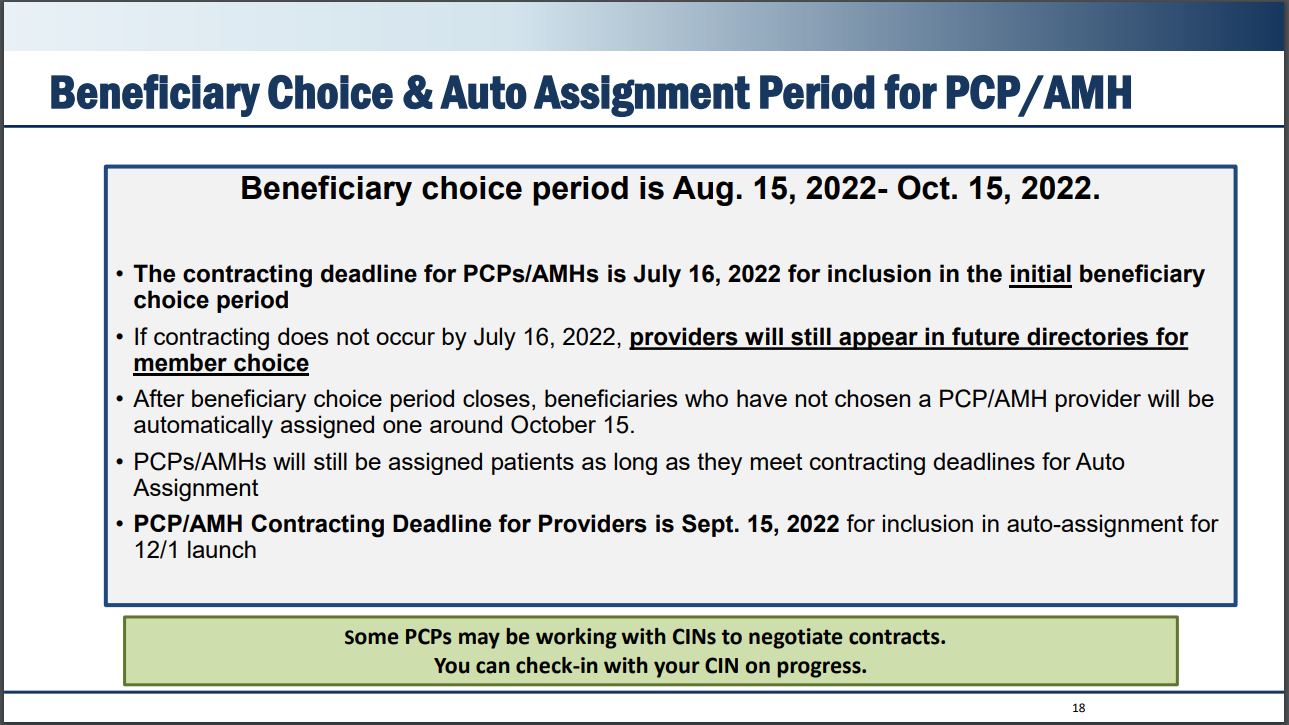 Additional Q & A:
Q: What do I do to get my Son registered to be with Sandhills and keep His PCP and other doctors ?
QA support (DHHS) 06:27 PM
If your son is Tailored Plan eligible, he will receive a enrollment package next month that will include information on how to select their Tailored Plan and PCP. A copy of what the notices will look like is available here: https://medicaid.ncdhhs.gov/counties/county-playbook-medicaid-managed-care/beneficiary-notices
Q: Are FQHC's eligible to sign up for Tailored Plans? Our billing dept seems to think we are not eligible.
QA support (DHHS) 06:30 PM
Yes, Tailored Plans will cover physical health and behavioral health services and FQHCs can contract with Tailored Plans to provide services.
Q: We were originally told that beginning July 1, 2022 Medicaid providers are to implement certain policies, are Medicaid providers required to have a tobacco-free policy? If so, what are the required materials?
QA support (DHHS) 06:43 PM
Tobacco free rules have been moved to begin 12/1/2022
---
Review the recording of the July 21, 2022 Back Porch Chat here.
Sign up / register for this and other helpful webinars focusing on Medicaid Managed Care here.
Still have questions? Contact Practice Support at Northwest AHEC!