COVID-19 Community Readiness Toolkit

The Division of Mental Health Developmental Disabilities and Substance Abuse Services in partnership with the NCDHHS Historically Marginalized Populations Behavioral Health Workgroup, recently created the COVID-19 Community Readiness Toolkit to connect North Carolinians to resources for a variety of mental health needs including resources for parents engaging in online-school, family-based needs, resources for those within the I/DD community and others.
For a more complete list of resources you can also visit the DHHS Wellness Resources Page.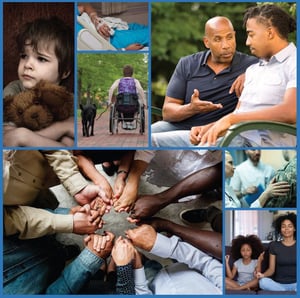 Community Health Worker Program

The Community Health Worker program supports community health workers in 55 counties to connect North Carolinians with medical and social supports such as diagnostic testing, behavioral health services and education about vaccines. A community health worker is a frontline public health worker who is a trusted member of the community or who has a close understanding of the community served. This program will continue through June 30.

Through the Community Health Worker program, NCDHHS works with seven partner vendors to provide 400 community health workers support to North Carolinians affected by COVID-19 in the 55 counties in which the program operates. Counties were chosen for this program based on their high COVID-19 caseloads. NCDHHS provides financial support, technical assistance and coordination with state COVID-19 efforts.

In particular, community health workers are hired and trained to support historically marginalized individuals and families. The community health workers assist North Carolinians with COVID-19 related needs, such as connecting people to medical and social support resources like diagnostics testing, primary care, nutrition assistance, behavioral health services and financial assistance. Community health workers will also provide North Carolinians with COVID-19 vaccine support, including access, information and reminders.


Seven partner vendors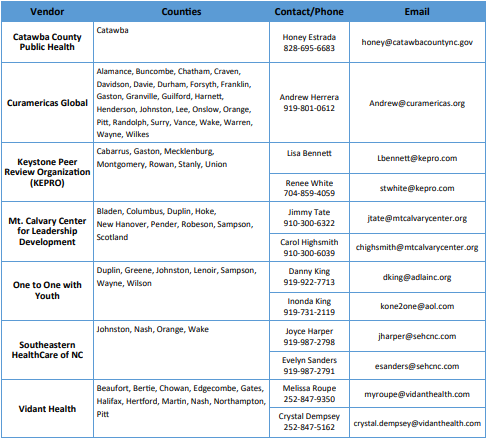 Resources

https://www.ncdhhs.gov/divisions/office-rural-health/community-health-workers
https://files.nc.gov/ncdhhs/CHW_OnePager_2021_1_11.pdf