Are you ready? Don't wait. Prepare Now.
North Carolina Medicaid Managed Care is set to launch on July 1, 2021. The NCDHHS Provider Playbook: Training Courses offers providers and staff an opportunity to prepare for the transition to managed care. Be sure to take advantage of the learning opportunities by participating in the webinar series for Medicaid providers and practice leaders. You and your staff can also learn more by accessing the health plan training resources for providers.
Webinar Series for Medicaid Providers and Practice Leaders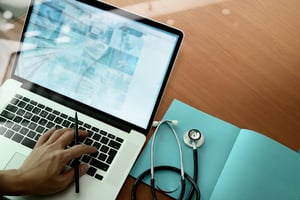 The North Carolina Department of Health and Human Services and North Carolina AHEC are offering four monthly evening webinar series to help prepare providers, practice managers and quality managers engage with NC Medicaid. One series is specifically for Medicaid Managed Care going live on July 1, 2021 the second is a focus on Quality and Performance on clinical criteria, the third is specifically related to the Advanced Medical Home (AMH) program, and the fourth is Virtual Office Hours (VOH) with topics that will cover Medicaid Managed Care.
Medicaid Managed Care Fireside Chat Webinar Series | Every first Thursday of the month from 5:30 to 6:30 p.m.
Advanced Medical Home Webinar Series | Every second Thursday of the month from 5:30 to 6:30 p.m.
Clinical Quality Webinar Series | Every third Thursday of the month from 5:30 to 6:30 p.m.
Virtual Office Hours | Every fourth Thursday of the month from 4:00 to 5:00 p.m.
For webinar dates, topics and registration, please visit the NC AHEC Medicaid Managed Care web page.
Previous webinars, recordings, and questions and answers will also be posted on the page when available.
Health Plan Training Resources for Providers
For training resources, please visit the health plan training websites below:
AmeriHealth Caritas North Carolina
https://www.amerihealthcaritasnc.com/provider/training-and-education/provider-training.aspx 
Carolina Complete Health
https://network.carolinacompletehealth.com/resources/education-and-training.html 
Healthy Blue (Blue Cross Blue Shield)
https://provider.healthybluenc.com/north-carolina-provider/training-academy 
United Healthcare Community Plan of North Carolina
https://www.uhcprovider.com/en/health-plans-by-state/north-carolina-health-plans/nc-comm-plan-home/nc-cp-training.html 
WellCare of North Carolina
https://www.wellcare.com/en/North-Carolina/Providers/Medicaid/Training/Medicaid-Training