National Influenza Vaccination Week is here! If you haven't received a flu shot yet, there's still time. People with certain chronic conditions are more likely to develop serious flu complications. Together, we can all #FightFlu. Protect yourself and your loved ones by getting a flu shot.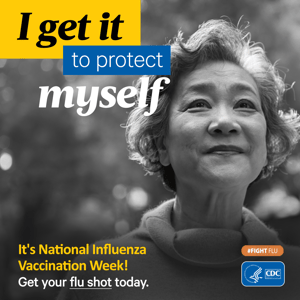 Learn More Here - Find information on planned activities and resources to help communicate the ongoing importance of flu vaccination through December and beyond.
Get Ready for Flu Season
Information for your Patients
Why should people get vaccinated against flu?
Influenza (flu) is a potentially serious disease that can lead to hospitalization and sometimes even death. Every flu season is different, and flu can affect people differently, but millions of people get flu every year, hundreds of thousands of people are hospitalized and thousands to tens of thousands of people die from flu-related causes every year. Flu can mean a few days of feeling bad and missing work or it can result in more serious illness. Complications of flu can include bacterial pneumonia, ear infections, sinus infections and worsening of chronic medical conditions, such as congestive heart failure, asthma, or diabetes. An annual seasonal flu vaccine is the best way to help protect against flu. Vaccination has been shown to have many benefits including reducing the risk of flu illnesses, hospitalizations and even the risk of flu-related death in children. While some people who get a flu vaccine may still get sick, flu vaccination has been shown in several studies to reduce severity of illness.
CDC recommends a yearly flu vaccine as the first and most important step in protecting against flu viruses.
Flu vaccines help to reduce the burden of flu illnesses, hospitalizations and deaths on the health care system each year. (Read more about

flu vaccine benefits.)
This season, all flu vaccines will be designed to protect against the four flu viruses that research indicates will be most common. (Visit

Vaccine Virus Selection for this season's vaccine composition.)
Take everyday preventive actions that are recommended to reduce the spread of flu. Avoid close contact with people who are sick. If you are sick, limit contact with others as much as possible to keep from infecting them.
Cover coughs and sneezes. Cover your nose and mouth with a tissue when you cough or sneeze. Throw the tissue in the trash after you use it.
Wash your hands

often with soap and water. If soap and water are not available, use an

alcohol-based hand rub.
Avoid touching your eyes, nose, and mouth. Germs spread this way.
Clean and disinfect surfaces and objects that may be contaminated with viruses that cause flu.
For

flu, CDC recommends that people stay home for at least 24 hours after their fever is gone except to get medical care or other necessities. Fever should be gone without the need to use a fever-reducing medicine. Note that the stay-at-home guidance for

COVID-19 may be different. Learn about some of the

similarities and differences between flu and COVID-19.
In the context of the

COVID-19 pandemic, local governments or public health departments may recommend additional precautions be taken in your community. Follow those instructions.