Out of an abundance of caution, the CDC and FDA announced a recommendation [ncdhhs.us4.list-manage.com] to pause use of the Johnson & Johnson COVID-19 vaccine. Therefore, NCDHHS is following the recommendation of the CDC and FDA and has asked vaccinating providers to pause the administration of the J&J COVID-19 vaccine until we learn more.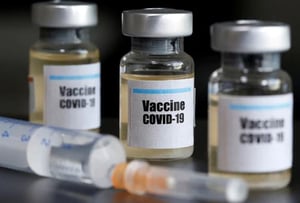 The recommendation follows six reported cases of a rare type of blood clot in individuals after receiving the J&J vaccine. Nationally, more than 6.8 million people have received the J&J shot, 242,762 in North Carolina. None of the six cases reported were in North Carolina. This pause allows them to look further at the data and make sure that providers know how to treat this rare blood clot.
These adverse events appear to be extremely rare. The vast majority of people who receive the J&J shot will only experience the expected temporary reactions like soreness of arm and feeling achy or tired for a day or two. Mild headaches and flu-like symptoms in the first few days after a vaccination can be expected and are not associated with this more severe concern. While it is extremely rare that someone would have a severe adverse reaction, people who have received the J&J vaccine and develop severe headache, abdominal pain, leg pain or shortness of breath within three weeks of their vaccination should contact their health care provider and mention they've received the J&J vaccine.
Specific instructions for providers who were planning to administer the Janssen (Johnson & Johnson) vaccine
The community event doses of Janssen (Johnson & Johnson) have already shipped/arrived for the week of April 12. When you receive the Janssen (Johnson & Johnson) vaccine,  please immediately implement the following CDC operational guidance until further notice:
Mark any 

Janssen (Johnson & Johnson)

 vaccine in your inventory "Do not use. Awaiting guidance." 

Continue to store the vaccine in the refrigerator between 2°C and 8°C (36°F and 46°F)

Follow  

vaccine storage practices

  and continue to monitor and document storage unit temperatures

If you have appointments scheduled to administer Janssen (Johnson & Johnson) vaccines, we ask that you offer recipients an alternative vaccine or reschedule/cancel those appointments until we have further information. 

If you have any questions, please submit a ticket to the CVMS Help Desk Portal or call the COVID-19 Vaccine Provider Help Center at (877) 873-6247 and select option 1 for COVID-19 questions (Monday – Friday 7:00 AM – 7:00 PM ET and Saturday – Sunday 10:00 AM – 6:00 PM ET).