In a June 10, 2021 news release the Occupational Safety and Health Administration (OSHA) issued an emergency temporary standard (ETS)(1) to protect health care workers from the coronavirus. The main section of the ETS (1910.502 – Healthcare) requires employers to develop and implement effective COVID-19 plans. OSHA's COVID-19 Healthcare (ETS) requires employers to develop and implement a COVID-19 plan for each workplace to protect workers from COVID-19. If an employer has more than 10 employees, the plan must be written. Employers may use this template(1) to develop a COVID-19 plan for their workplace.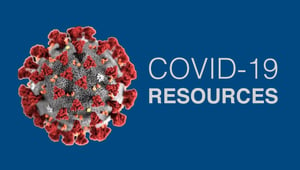 Is your workplace covered by the COVID-19 Healthcare ETS?(2)
Employers may use this flow chart(2) (see snip below) to determine whether and how your workplace is covered by the ETS. For the full text of the ETS, refer to 29 CFR 1910.502 at www.osha.gov/coronavirus/ets.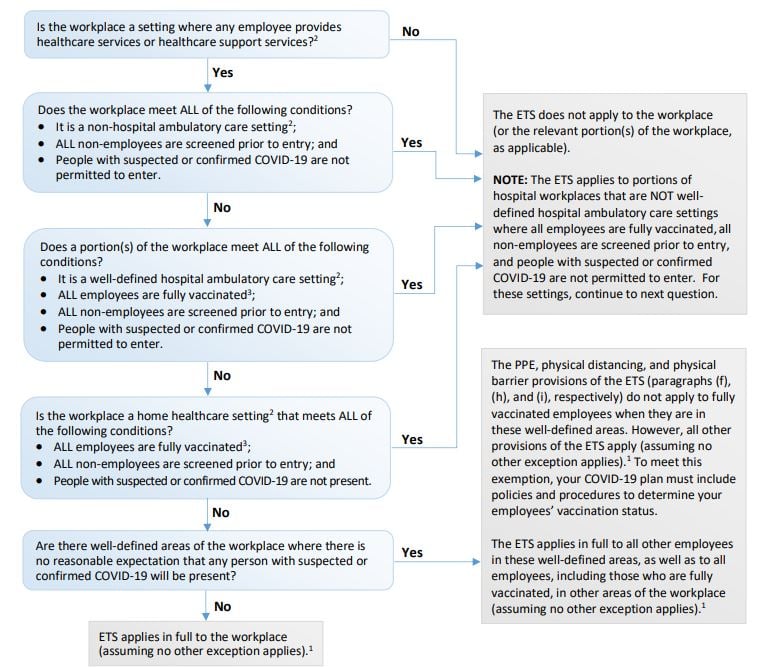 What are the key requirements of the ETS?
COVID-19 plan

Patient screening and management

Standard and Transmission-Based Precautions

Personal protective equipment (PPE)

Standards for Aerosol-generating procedures on a person with suspected or confirmed COVID-19

Physical distancing

Physical barriers

Cleaning and disinfection

Ventilation

Health screening and medical management

Vaccination

Training

Anti-Retaliation

Requirements must be implemented at no cost to employees

Recordkeeping

Report work-related COVID-19 fatalities and in-patient hospitalizations to OSHA
Review the Subpart U—COVID-19 Healthcare ETS Factsheet(3) for more detailed guidance.
Answers to your most frequently asked questions can be found on the FAQs section of the ETS webpage.
Other Resources