Check all providers in your practice in PECOS to ensure they are associated with the appropriate practice Tax ID number.
Why is this important?
There has recently been an incident identified of a provider not being listed with their contracted ACO on the QPP website. This can impact not only the provider's status in the Quality Payment Program (QPP) and payment adjustments, but also their shared savings and other benefits of membership within an ACO.
We encourage all practices contracted with an ACO to confirm each provider's status within QPP's website.
Steps:
Go to qpp.cms.gov
Enter the NPI for the provider and click 'Check Status'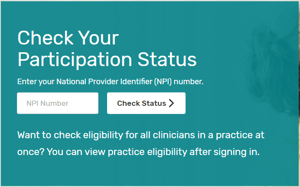 The site defaults to program year 2022, but you should check status for each year the provider has been a part of the ACO.
Click on the + sign beside the provider's name for reporting requirement details.
For a provider who is NOT part of an ACO (and meets other MIPS eligibility criteria), MIPS eligibility will be shown as Individual or Group and reporting requirements may look like this:

For a provider who IS part of an ACO, you will note that the 'individual' and 'group' text is black, and this provider is prompted to Check APM Requirements (i.e., the ACO to which they belong).

Click on the + sign and you will see reporting requirements like this:

(One detailed note here: is that practices are still required to report Promoting Interoperability data themselves, leaving the remainder of the MIPS reporting to the ACO to complete. ACOs are prohibited from reporting Promoting Interoperability data.)
Where does QPP get this information?
According to QPP, the data is pulled from PECOS (Provider Enrollment, Chain, and Ownership System) and claims. Errors can occur based on which Tax ID number the provider is associated with in PECOS . It is advisable to check PECOS and correct any potential errors. You can also contact PECOS at 866-484-8049.