In this week's post, we share with you some highlights from the June 16, 2022 'Back Porch Chat: Tailored Plan 101 Ready, Set, Launch! series.
Under managed care transformation, both BH I/DD Tailored Plans and Standard Plans are integrated managed care plans that will cover physical health, behavioral health, and pharmacy services for most Medicaid and NC Health Choice enrollees.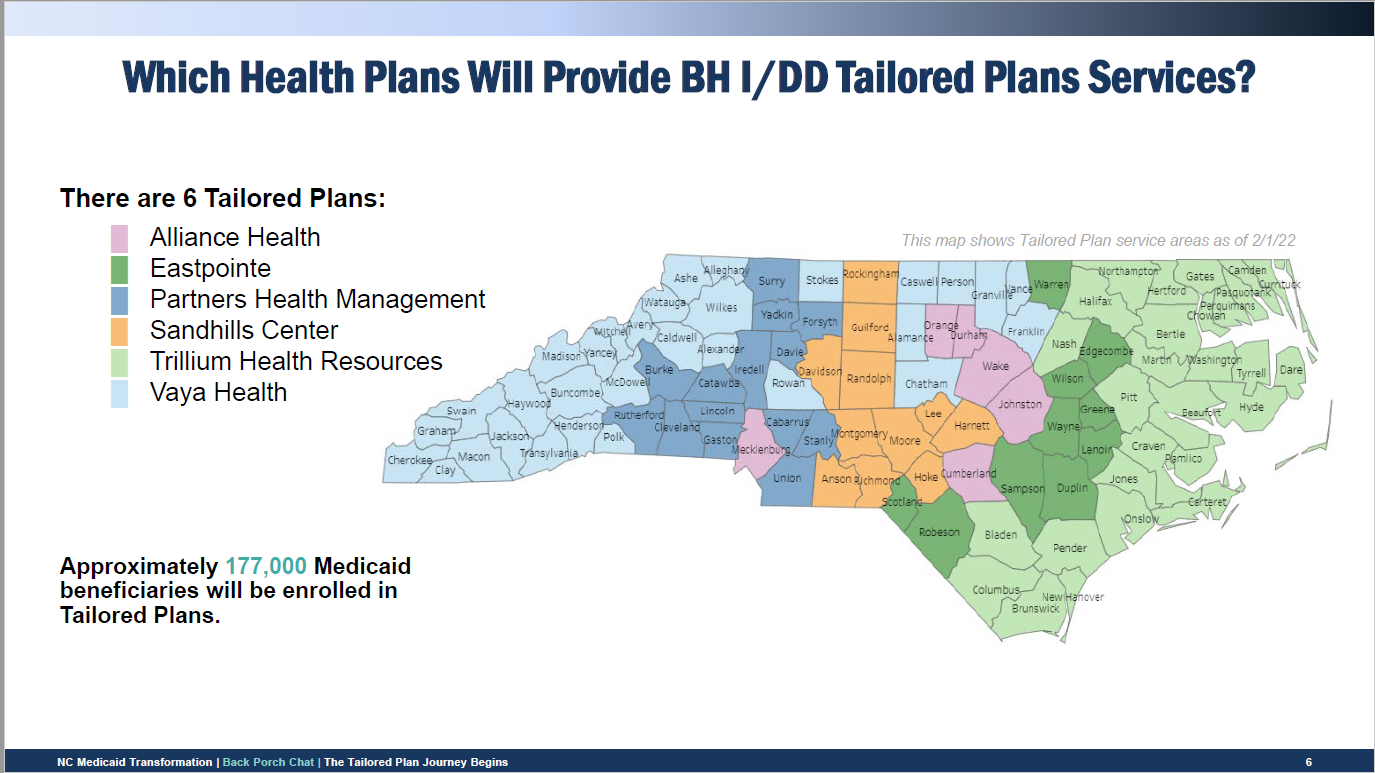 Primary Care in Tailored Plans
Vision for Primary Care in Managed Care
Preserve broad access to primary care services for Medicaid enrollees and strengthen the role of care management, care coordination, and quality improvement as the state transitions to managed care.
All Tailored Plan members can choose or will be assigned to a Primary Care Provider/Advanced Medical Home

In Tailored Plans, ONLY Advanced Medical Home +'s will provide 'Tailored Care Management'. AMH 3s will

not

provide care management or receive care management fees.
Advanced Medical Homes 1,2,3 will still receive medical home fees ($2.50/$5.00) for TP members

Tailored Plan-Standard Plan Partnering


Tailored Plans are partnering with a Standard Plan to provide an integrated plan with behavioral and physical health services.

Provider Contracting
Are Providers Required to Contract with All Tailored Plans?
Not required, but providers are encouraged to contract with each Tailored Plans (or the Tailored Plan's Standard Plan partner) in their service area to ensure member continuity and access.

Providers may contract with as many or as few plans as they desire.
Do Providers Need to Contract with Tailored Plans if They Are Already Contracted with the Standard Plan Partner?
A provider wishing to participate in the Tailored Plan network should contact the Tailored Plan to discuss how the provider may participate in the network.

If the Tailored Plan's partner ship with a Standard Plan includes leveraging the Standard Plan's existing provider network, then the provider will receive a referral to the Standard Plan Partner to discuss participation

Under a leveraged network, a provider may have an option to add the Tailored Plan program network to its existing provider participation agreement with the Standard Plan Partner via an amendment.

In this case the provider does not need a new, separate contract.
What are a Tailored Plan's Contracting Responsibilities With Providers?
Must negotiate in good faith with any willing physical health services provider or pharmacy services provider

May only exclude qualified physical health services or pharmacy services providers from their physical health network if, after a good faith contracting effort, the provider refuses the network rates

This applies to a Standard Plan partner whose PH network is leveraged under the partnership and to subcontractors/vendors for PH services/networks

Tailored Plans have authority to maintain a closed network for their behavioral health service providers and may exclude such providers from the BH, I/DD or TBI networks.
Will Tailored Plans utilize subcontractors or vendors for contracting?
In some cases, yes. Tailored Plans (or their Standard Plan partners) may use subcontractors/vendors for some network administration

Most frequently this includes a Pharmacy Benefit Manager for the pharmacy network, a Vision Network Vendor for vision network, or a broker for Non-emergency Medical Transportation network.

If a health plan has received approval from the Department to have such a subcontractor/vendor arrangement, then providers of those types wishing to participate in the Tailored Plan's network will need to contract with the subcontractor/vendor.



Tailored Plan contracting contact information can be found at: https://medicaid.ncdhhs.gov/health-plans#behavioral-health-idd-tailored-plans
Access the slides and recording of this webinar from the NC AHEC website to review additional details.
As always, a Practice Support Coach is available to help!