A recent study of 87 primary care encounters found that providers used at least 1 type of medical jargon without explaining it to patients in nearly 80% of appointments, with an average of more than 4 uses of jargon per visit. Fewer than half of the terms were explained, and overall, providers used a jargon term about once every 4 minutes!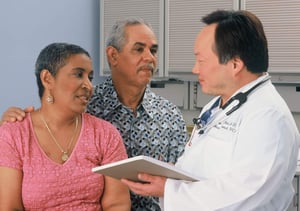 Fully understanding your explanation and instructions is vital to good patient outcomes, providers often overestimate what their patients grasp.
What can you do? Try simple Teach-Back.
Here's one pediatrician's experience:
Practice Experiences
"I decided to do teach-back on five patients. With one mother and her child, I concluded the visit by saying 'so tell me what you are going to do when you get home.'...She could not tell me what instructions I had just given her. I explained the instructions again and then she was able to teach them back to me… I had no idea she did not understand… I was so wrapped up in delivering the message that I did not realize it wasn't being received".

The teach-back and show-me methods are valuable tools for everyone to use with each patient and for all clinic staff to use. These methods can help you:
Improve patient understanding and adherence.
Decrease call backs and cancelled appointments.
Improve patient satisfaction and outcomes.

Interested in learning even more? Check out Health Literacy Universal Precautions from AHRQ!