Many Veterans seek and receive care outside of the Veteran's Administration system. Military service is an important part of a patient's history. The 'Have You Ever Served' initiative, spearheaded by Michele Obama and Jill Biden, provides general intake questions to explore a Veteran's military history, areas of concern and common military health risks, along with other resources.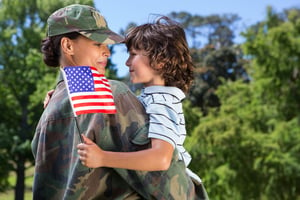 Aside from ensuring this is asked as part of intake, why is this important?
The PACT Act ("Sergeant First Class (SFC) Heath Robinson Honoring our Promise to Address Comprehensive Toxics Act") is a new law that expands VA health care and benefits for Veterans exposed to burn pits, Agent Orange, and other toxic substances.

This law helps provide generations of Veterans and their survivors with the care and benefits they've earned and deserve.

There are many presumptive conditions based on the PACT Act that have been added, thereby expanding benefits for Gulf War era and post-9/11 Veterans.
We encourage you to learn more about presumptive medical conditions, the PACT Act and how your Veteran patients may benefit.