Northwest AHEC is committed helping control the spread of COVID-19, and would like to keep you informed about how to protect yourself and others. The best way to prevent infection is to continue to practice social distancing, handwashing and wearing a mask at all times. When available, the vaccine will add an important preventive measure. We have some updates below on how to get scheduled for the COVID-19 Vaccine.
The spread of COVID-19 is alarming right now. The most important thing you can do to slow the spread is stay home and only go out for essential activities. If you must go out, practice the 3 Ws!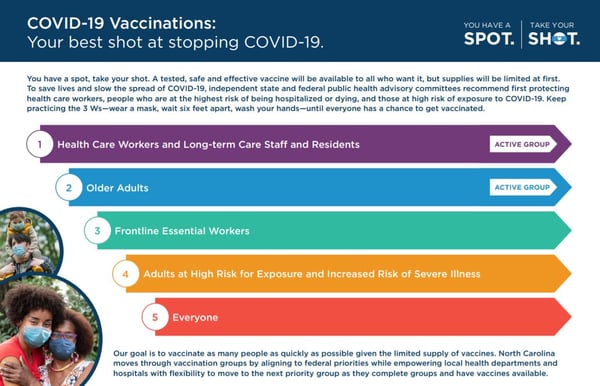 View North Carolina's vaccine groups
View NCDHHS COVID-19 Information
Find your spot to take your shot.
A free COVID-19 vaccine will be available to all who want it, but supplies will be limited at first. Our goal is to vaccinate as many people as quickly as possible given the limited supply of vaccines. North Carolina moves through vaccination phases by aligning to federal priorities while empowering local health departments and hospitals with flexibility to move to the next priority group as they complete phases and have vaccines available. Rest assured: you have a spot to take your shot.

View full list of vaccine providers and find one near you - Click Here
Here are a few local resources for COVID Vaccines:
Davidson, Davie, Forsyth, Guilford, Wilkes Counties - Wake Forest Baptist Health
Wake Health Employees

- View COVID-19 Updates on Scheduling & Locations (Intranet)
As of Tuesday, January 19, employees who are now eligible for vaccination include health care workers with in-person patient care, and any employee age 65 and older, regardless of job role or health status. All vaccinations will be by appointment ONLY.
Total vaccines administered: 10,424 (includes employees and patients)
Number of employees who received first dose: 8,317
Number of employees who received second dose: 2,008
Number of patients who received first dose: 99


Wake Health is Now Vaccinating Patients 65 and Older
Wake Health is now scheduling COVID-19 vaccination appointments for current Wake Forest Baptist patients age 65 and older. Beginning Wednesday, January 20 at 8 am, patients age 65 and older may call 336-70-COVID to schedule COVID-19 vaccination appointments.
View more information

Wake Health COVID Resource Page

Latest COVID-19 Update from Dr. Ohl, Infectious Disease Expert - Watch here


Forsyth County
Forsyth Public Health now taking online COVID-19 vaccine appointments
Forsyth County Department of Public Health is currently administering the COVID-19 vaccine only to individuals in Phase 1 and Phase 2 of the NCDHHS phased vaccine rollout. These categories include: Phase 1: Healthcare workers & long-term care staff and residents, Phase 2: Older Adults - Anyone 65 years or older, regardless of health status or living situation.

(All current appointments have been filled, but some slots may open again if users cancel or are found to be unqualified when staff checks their information.)


Click here to schedule your appointment online

Forsyth & Mecklenburg Counties
Novant Health

Patients Adults age 65+ now eligible for COVID-19 vaccine


Appointments are available based on the

limited supply of vaccine

provided by the state health department and will be updated weekly. If you are an eligible patient, we will send you a MyChart message with next steps to get the vaccine.


Click here to learn more


Alexander County
Alleghany, Ashe, Watauga Counties
AppHealthCare (Appalachian District Health Department) - 828-795-1970 (AppHealthCare COVID-19 Call Center) Click here to learn more


Avery & Watauga County

Appalachian Regional Healthcare System (Watauga Medical Center) - 828-386-3000 (COVID hotline) - Click here to learn more

Burke County
Caldwell County
Catawba County

Davidson County

Davie County
Iredell County

Rowan County

Stokes County

Surry County
Watauga County
AppHealthCare (Appalachian District Health Department) - 828-795-1970 (AppHealthCare COVID-19 Call Center) Click here to learn more
Appalachian Regional Healthcare System (Watauga Medical Center) - 828-386-3000 (COVID hotline) - Click here to learn more


Wilkes County
Yadkin County
Other Helpful Resource Sites:
****Remember: Until public health officials tell us to act differently – even after vaccination – please continue to practice the 3 W's – Wear a mask, Wash your hands often, and Wait 6 feet apart.****