Clinical Corner is a series of 4 online microlearning activities focused on high priority health indicators in North Carolina, as outlined in Healthy North Carolina 2030. Achieving the goals of Healthy NC 2030 requires engaging partners across multiple sectors to improve population health and drive health equity over the next decade (Healthy NC 2030, p.17).
Each module uses the Results-Based Accountability framework of 'Turn the Curve' thinking, and should take about 15 minutes to complete.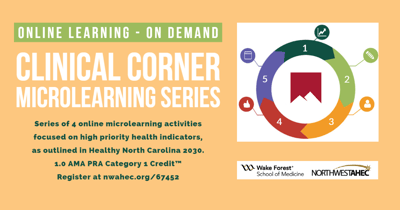 Clinical Corner: Microlearning Series
Online Self-Paced Learning
REGISTER NOW!

Clinical Corner provides:
Background and context of the health indicator
Concrete steps you can promptly implement in your daily practice. Things you can do make a difference (begin to 'Turn the Curve') in these challenging health indicators, along with resources to support you.
This course consists of four microlearning activities:
Healthy NC 2030 Indicator 10 Decrease Drug Overdose Deaths
Healthy NC 2030 Indicator 13 Reduce Overweight and Obesity
Healthy NC 2030 Indicator 18 Early Prenatal Care
Meeting Challenges to Your Action Plan to Turn the Curve
You must complete all four modules to receive full credit. No partial credit will be given.

Registration fee is $25 for the four microlearning sessions, get signed up today!